From World of Justice, World of Peace:
"In this world of war, my only weapon is a song. 
All alone I'm not strong enough to right what's wrong.
But if we walk hand in hand
And we work side by side
If we join heart to heart
Til we see eye to eye
Then every dream we dream will be reality
In a world of justice, a world of peace."
Copyright 2001 Dana Clark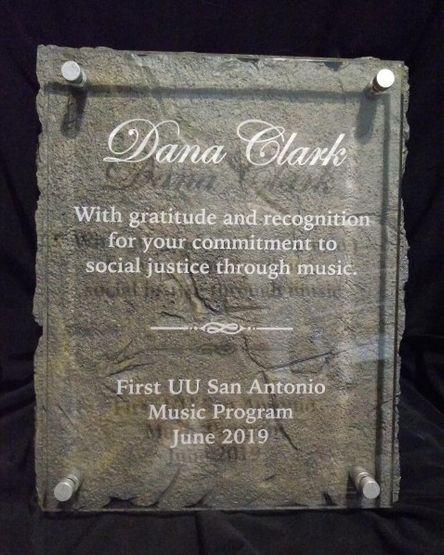 WHO NEEDS A GRAMMY?? Not me!!
Sunday was Music Sunday at UU and the whole show was the choir. Dr. Susan Dill the music director spoke about recent achievements by certain choir members and THEN...she gave a big speech about ME (!!!!!) and handed me the award pictured above. She had warned me that was going to happen but I decided to attend anyway. What surprised me was that every person present stood to give me a standing ovation--and a long one!! Oh, my! Better than a Grammy! Better than winning the lottery! Nice to know someone has noticed my particular obsession and thinks it's OKAY. Does she understand that she is just adding fuel to the fire? I hope so!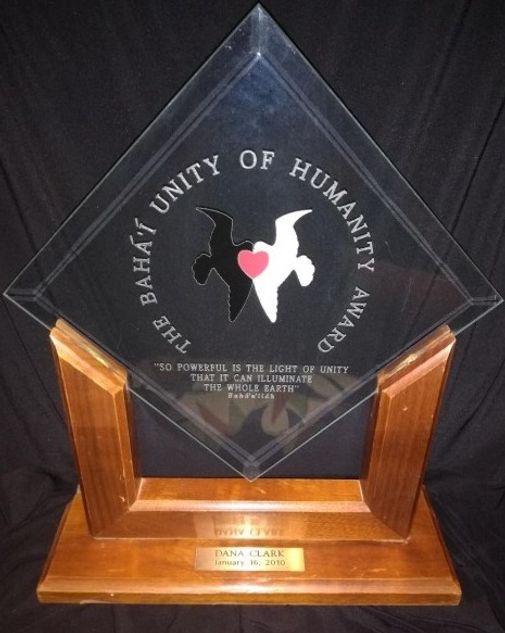 "...I just want to say that you are the most genuine person I know who actually lives her principles - moment by moment in your mind and heart and demonstratively through your donation of time and talent at the Peace and Refugee centers and I imagine other places--wherever you live and breathe!  You are an inspiration to many!"  Joyce S.,  2019 
  *****
  Music Students and Teachers from Center for Refugee Services (CRS) 
 Field Trip to San Antonio Symphony June 10, 2017 
 Cirque de la Symphonie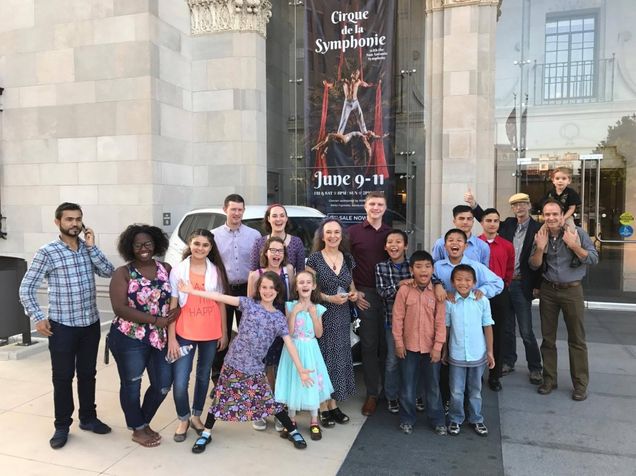 Click picture for story.     
 Click HERE to listen to a report about the music teaching program for refugee students at CRS that recently aired on KSTX 89.1.
Click HERE to see the Kens 5 TV show about our students performance at Ten Thousand Villages.
Click HERE for a video of our music program at CRS
*****
Music and Social Justice
When my children were small I thought we would have all the major problems in the world solved by the time they grew up. Wrong. There is still so much to do. 
Because I believe songs are a powerful tool for inspiring people to work for a better world, I can't resist providing music for social justice events/projects.  I admit to being a woman of strong opinions, and I relish the opportunity to write songs expressing them! 
I was recently challenged to write a history of my involvement.  Below is a partial list.  
At Southern Illinois University during the Viet Nam war years, I was a member of the Southern Illinois Peace Committee and traveled twice to Washington D.C. to participate in massive Moratoriums to end the war.  I sang at peace demonstrations on campus.
I wrote songs for these events in San Antonio, helped organize them, and performed at them:  
1999 Southwest UU Women's Conference
World Aids Day
World Refugee Day
San Antonio Peace Choir
Memorial for Victims of Domestic Violence, Peace Initiative
Climate Flash Choir, San Antonio City Council Chamber and Earth Day, Woodlawn Park
I performed for the following events and helped organize them:
Walk Against Genocide, San Antonio Coalition Against Genocide
Martin Luther King Vigil, Peace Initiative
Blessing of the Peacemakers, San Antonio Peace Center
Many other events for the San Antonio Peace Center
Centennial of Mahatma Gandhi's Satyagraha
Rally at Arneson River Theater with Arun Gandhi
Season for Nonviolence Events
Concerts with Seattle Peace Chorus, Travis Park Church and Mennonite Church
I performed for:  
Solidarity Sunday, University Presbyterian Church
Journey of Hope with Sister Helen Prejean, St. Mary's University
Victim Advocacy Council, Tree of Angels, Madison Square Presbyterian Church
Festival of Human Dignity, Travis Park
Early Morning Worship Service, Martin Luther King March, 2007 and 2008
Student UNICEF, University of Texas
Inner City Development Coffeehouse, Inner City Development
Teaching Peace Conference/Texans for Peace, University of Incarnate Word
Race Unity Day, La Villita
Regional Interfaith Conference, University of Incarnate Word, Oblate School of Theology
One Billion Rising, Alpha Home, Rape Crisis Center, Free Battered Texas Women
Performances elsewhere:
Oneness Festival, Aquarena Center, Boerne TX
Global Action Days for Darfur, Floresville TX
Die-In for Darfur, Schreiner University, Kerrville TX
World Day of Prayer, Crossings Retreat Center, Austin TX
Oasis Women's Center, Alton Ill.
Awards:
Baha'i Unity of Humanity Award 2010
Peace Initiative Phoenix Award 2012
UU Social Justice Through Music Award 2019.
Other work:
Produced two compilation CDs on the theme of peace to benefit San Antonio Peace Center
Participated in the Human Library at UIW as the "book" Pacifist and Songwriter, 2018 & 2019
February 2015-February 2020: Coordinator of Free Music Teaching Program, Center for Refugee Services
Volunteered at Migrant Overnight Shelter at Travis Park Church with the Interfaith Welcome Coalition.
Maintains a food pantry at her house for over 120 households
Helps organize and performs at events for B.L.A.C. (Black Lives & Allies in Community)
Coordinator, Free Music Program, Center for Refugee Services
Coordinator, Free Music Program 
Center for Refugee Services 
8703 Wurzbach 
San Antonio TX 78240 
https://sarefugees.org/ 
Center for Refugee Services (CRS) works to meet the needs of refugees from Asia, Africa, and the Middle East. After performing and writing songs for several World Refugee Days, I asked the Director's permission to invite people to the Center to play music together. I thought blending traditions from around the world would be interesting! 
We planned an event. Surprisingly, the attendees were children of refugees, desperate to learn American music! The following week, other volunteer teachers and I began the first of what became five years of free music classes. We averaged 45 weeks a year and 15 students per class. Then the pandemic put an end to all classes at CRS. 
Students were from Myanmar, Syria, Rwanda, Eritrea, Iran, Iraq, Afghanistan, Kurdistan, the Democratic Republic of Congo, and Thailand. They learned piano, guitar, drum set, ukulele, recorder, percussion, violin, and group singing. We chose songs that expressed positive social values, respect for everyone, and tolerance of diversity. 
Keyboards and guitars were donated by individuals. A $1500 grant from the Puffin Foundation helped us buy ukuleles, recorders, and violins. Students with regular attendance could borrow instruments for practice at home. 
Our Facebook page publicized the work. Our students performed at Walk Against Genocide, SA Peace Center, CRS Gala Fundraiser, and World Aids Day. We took them on a field trip to a music store and twice to the SA Symphony. The NPR station KSTX won an award for a program about us: https://www.tpr.org/arts-culture/2016-04-18/refugees-find-refuge-in-music#stream/0. SA's KENS 5 TV broadcast our performance at 10,000 Villages: https://www.youtube.com/watch?v=iBxjTgHJq5s. We produced our own video: https://www.youtube.com/watch?v=2FzYtNARpqo&t=13s. Performances at CRS allowed families to see what their children were learning. 
Welcoming people new to our country with the universal language of music just made sense. Many children came week after week, absorbing subtleties of language and culture and discovering a feeling of belonging. Singing together, we breathed together. We moved together. Making music created deep bonds among us. This could help them cope with the responsibilities most refugee children bear for the older members of their families who can't adjust to their new country and language. In the future, music might help them prove their expertise and open doors closed to them because of perceived differences. Music could be a link to community throughout their lives. 
On a Symphony field trip, we stood for a group photo. We were a rainbow in every respect--twenty people representing four different continents. A stranger asked, "Are you having a family reunion?" I felt like I was speaking the truth when I said, "Yes! We are!" Inside, a woman sitting next to us commented, "You have a beautiful family." With great pleasure, I replied, "Yes. We do!"